A new, fast Diesel powered car is taking on Utah's Bonneville salt flats in a new speed record attempt. According to the new and wicked-cool
JCB Dieselmax website,

JCB is aiming to set a new land speed record for diesel vehicles with a super sleek streamliner car to be driven by Wing Commander Andy Green, the fastest man on Earth. The record attempt will take place on the famous Bonneville Salt Flats in Utah during August 2006.

Powering the stunning, nine metre long JCB DIESELMAX car are two JCB444 diesel engines, developed to produce 750bhp each.
There are lots of different catagories of records for land speed racing. There are records for electric vehicles, turbine vehicles, blown lakesters, unblown fuel streamliners and so on. The fastest vehicle I see in the the
Southern California Timing Association's record book
for Bonneville is a blown fuel streamliner driven by Tom Burkland that reached 417 mph. That's fast. Anything faster has a turbine or a rocket behind it.
Burkland Streamliner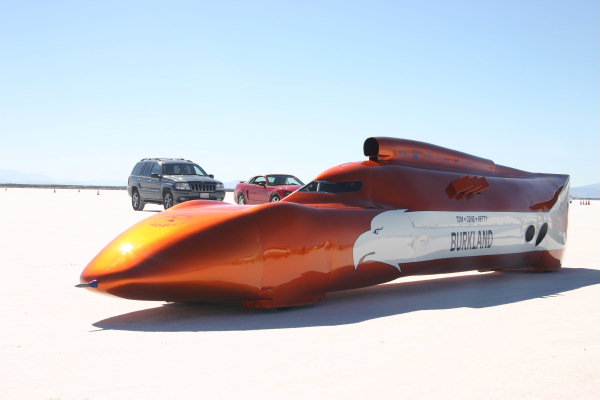 The current record for a diesel powered vehicle is getting old - it dates back to 1973, when Virgil W. Snyder achieved 236 mph in the Thermo King Streamliner. In fact, this is by far the oldest record in the SCTA record book . If Dieselmax is successful, then the oldest record will belong to the
Steamin Deacon
, top racer in the rather esoteric "steam powered" catagory that reached 145 mph in 1985.