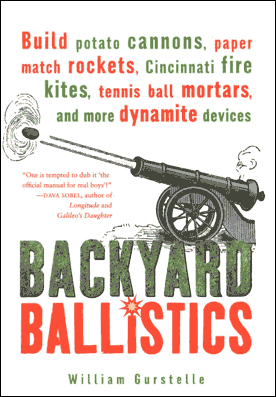 According it's publisher,
Backyard Ballistics
is approaching 200,000 copies in sales. I think that's indicative of the interest out there in "making cool things."
In case you're not familiar with this work (which I authored in 2001), it's a collection of projects all of which go Whoosh, Boom, or Splat when completed. My personal favorites (although this changes depending on my mood) are the Carbide Cannon, the Cincinatti Fire Kite, and of course, the Spud Gun (that's me with a fancy taser powered version above right.)
I'm always anxious to learn about the kinds of home made ballistics people have made. If you've got one you're proud of, drop me a line. Use the email link under "about me" if you don't want to comment publicly.
Take a look at it on
Amazon
if you're interested